ICYMI: The Long Good Friday (1980)
Bob Hoskins didn't exactly have "movie star looks." Yet, anyone who watched him perform for more than five minutes could easily understand what a gifted actor he was and why his film career lasted almost forty years. Hoskins was a multi-faceted talent who was capable of embodying brutish intensity, working class likability, and infectious joy. From his Oscar-nominated turn in 1986's Mona Lisa, to his surprisingly underrated work in 1988's Who Framed Roger Rabbit, as well as being a welcoming presence in 1990's Mermaids, 1991's Hook and the colossally awful 1993 Super Mario Brothers, Hoskins was always captivating and universally respected. And for my money, he was the best Iago I ever saw in a 1981 BBC production of Othello directed for TV by Jonathan Miller. He was an amazing actor, period.
I first became aware of Hoskins' limitless ability watching 1980's The Long Good Friday. Directed by John Mackenzie (The Fourth Protocol), the film is an enthralling character study of a criminal, named Harold Shand, trying to go "legit" and watching his world implode. Hoskins gives a tour-de-force performance, and as I far as I can tell it's the film that put him on the map.
As the film starts, Harold has just returned to London after a business trip. He is in the process of setting forth on a new venture (a legitimate one at that) and is now hosting American gangsters who will take part in a new casino. Although the idea of criminals running a casino may seem redundant/cliché, we learn that Harold sees this as an opportunity to leave his thuggish life behind and is doing everything on the up and up. At his side is his lover, Victoria (none other than Helen Mirren), who is both his arm candy and a surprisingly effective consigliere. Mirren brings complexity and sex appeal to this male-dominated world and proves herself indispensable whether she's stroking Harold's ego or telling the "Yankee" gangsters the way things are.
But all is not well in London, as a series of seemingly unprovoked attacks against Harold's organization interrupt his wining and dining and threaten his dream project. At first, Harold thinks it's just a rival organization trying to muck up Harold's plans. As the film develops, Harold learns there are many forces at play and that leaving "the life" is a lot harder than it seems. Harold moves about the city's underbelly trying to put out fires and discover the identity of his saboteur. It's here we see Hoskins in his element as he adapts to each situation and transforms himself from loudmouth bulldog to charming con man to sympathetic ear – all depending on what each situation calls for. I especially liked a small scene where he jokes around with neighborhood kids who don't realize they are trying to shake down a man who does not play nice.
Eventually, we learn "the call is coming from inside the house" with one of Hoskins' trusted lieutenants admitting to making a grave mistake that has caused this murderous chain of events and everything comes to a head. The final moments of the film are very powerful with Hoskins in the back of car awaiting his fate. I was reminded of a similar scene from 1974's The Gambler. In that film, James Caan is out too much money to the wrong people and is locked in a room. For the next two minutes, he agonizes, paces, and sweats not knowing what will happen and if he will survive. It's a showcase for some of Caan's best work. Similarly, the last few minutes of The Long Good Friday end with a focus on Bob Hoskins face. He contorts, he fidgets, his eyes dart and the audience is absorbed as he goes on an emotional journey from shock to recognition to acceptance. It's a great ending to a great film.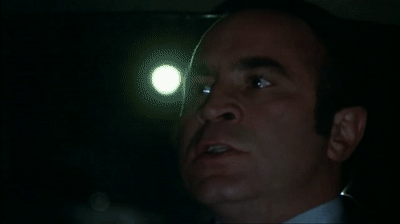 While many would regard Bob Hoskins as an immensely talented actor, I'm still not sure he got the recognition he deserved. He brought so many layers to each and every performance, he was certainly worthy of an Oscar or two. And I am sure he is an inspiration to those struggling actors who also do not conform to traditional Hollywood standards of physical beauty. But, in Harold Shand, Bob Hoskins gave the cinematic world a true masterpiece of limitless beauty.
PS – The Long Good Friday also includes Pierce Brosnan's film debut as an IRA assassin. He has no lines but is still mesmerizing in a brief role.