Our Favorite Films of 2018
Jose's Top 10 Films of 2018
With every passing year I find myself getting more and more cynical about the state of modern cinema. But somehow by year's end, every year, I recollect that I still have found a way to have plenty of fun at the movies and discover a handful of flicks that renew my faith. 2018 was no different with plenty of surprises and burgeoning fads. The biggest and most welcome trend I see is the plethora of working and talented African-American filmmakers. So, it should only be fitting that my favorite film of the year is courtesy of one of their most influential artists: Spike Lee.
1. BLACKKKLANSMAN
Just over 30 years after his cinematic debut (She's Gotta Have It), Spike Lee proves he's still got plenty of relevance and talent with my favorite film of 2018. At times funny, at times frightening, Blackkklansman tells the true story of a rookie Colorado detective Ron Stallworth (an excellent John David Washington) who finds a way to infiltrate a local chapter of the KKK, and even crosses paths with future Grand Wizard David Duke (a smarmy Topher Grace). The film also includes excellent supporting work from Adam Driver as the "face" of the operation and Laura Harrier as a student activist and the object of Ron's affection. Spike Lee weaves a complex story with his usual visual flair and builds up to an incredibly powerful final image that brings the story to the modern day, heartbreakingly.
2. BLACK PANTHER
It has taken ten years but the Marvel Cinematic Universe finally has its crowning achievement. This entry into the Wakandan world of the recently anointed King T'CHalla (Chadwick Boseman) is the adventure that Marvel fans and movie super fans have been waiting for. We were also treated to the MCU's most complex and compelling villain in the form of Erik Killmonger, brought to life in a mesmerizing performance by Michael B. Jordan.
3. A QUIET PLACE
Just when you thought every horror gimmick had been exploited comes actor/director John Krasinski's instant classic about a family trying to survive in a post-apocalyptic landscape crawling with sound-sensitive predators. For 91 minutes, A Quiet Place is a tense, intelligent, and surprisingly heartfelt horror film. And if there is justice, Emily Blunt will receive her first Oscar nomination.
4. SUPA MODO
From Kenya comes this inspirational tale directed by Likarion Wainaina. A 9-year-old terminal cancer patient returns to her village when her mother decides she should die in peace. The local villagers decide to make her superhero dreams come true when they are able to scramble together enough money and tech gear to make her the star of her own cinematic comic book movie. Thinks 2015's Batkid Begins. So funny, so touching, so memorable.
5. SPIDER-MAN: INTO THE SPIDER-VERSE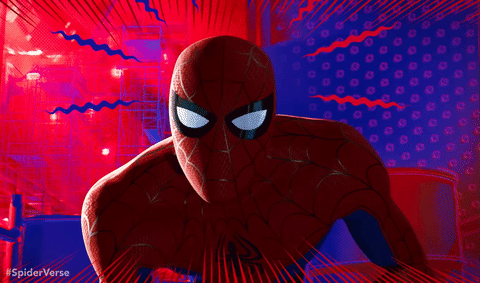 Hard to believe, but the best animated film of 2018 did not come from Disney or Pixar. Directors Bob Persichetti, Peter Ramsey and Rodney Rothman breathe new life and new blood into the cinematic world of our friendly, neighborhood web-slinger. The film is a feast for all of the senses ("Spidey" included) as we watch mild-mannered Miles Morales take on the arachnid-based superhero mantel and get hands-on training from almost every modern version of Spider-Man (from Gwen Stacy to Peter Porker) in a battle against the legendary Kingpin. The film is pure joy, and please stay all the way until the end of the credits. #Spoilers
6. VICE
Apparently, the director that graced us with Anchorman: The Legend of Ron Burgundy and Talladega Nights: The Ballad of Ricky Bobby is quickly becoming a renowned filmmaker. Writer-Director Adam McKay follows up 2015's sharply indicting The Big Short with this scathing and unrelenting look at the life and political times of Dick Cheney. Christian Bale is chameleon-like and award-worthy in the title role and Amy Adams is every bit his equal as Lynn Chaney in this timely tale of political power and its true cost, to all of us.
7. SORRY TO BOTHER YOU
First-time writer-director Boots Riley made a huge splash with this innovative, thought-provoking, and hilarious social-political-racial satire. We engagingly watch as Cassius Green (Lakeith Stanfield) navigates the world of telemarking and strikes gold using his "white voice" (courtesy of David Cross). Also features exemplary work from Tessa Thompson as Cassius' girlfriend and boundary pushing artist and Armie Hammer as the CEO who sees potential in Cassius as well as a guinea pig for his "experimental" workforce. This is the film that Spike Lee's Bamboozled should have been.
8. HAL
Amy Scott's insightful documentary paints the rich canvas that was the gone-too-soon life of filmmaker Hal Ashby. In the 1970's, Ashby had an amazing stretch of films that included The Landlord, Harold and Maude, The Last Detail, Shampoo, Bound For Glory, Coming Home, and Being There. The film includes testimonials from plenty of today's filmmakers who were inspired by Ashby's work as well as a look into Ashby's not so perfect home life.
9. LOVE, SIMON
The best romance of the year was on display in director Greg Berlanti's adaptation of the best-selling young adult novel (SIMON VS. THE HOMO SAPIENS AGENDA by Becky Albertalli) about an everyday high school teen who finds love while trying to come out of the closet on his own terms. Nick Robinson showed surprising leading young man ability as the titular Simon and the entire cast is very appealing (especially Katherine Langford as Simon's brokenhearted best friend) in this modern and surprisingly realistic tale of young love.
10. THE OLD MAN AND THE GUN
In what has been announced as his big screen "swan song," Robert Redford gave us the umpteenth reminder of how charming he is. Based on a true story, Redford adds Forrest Tucker to his legendary cinematic resume. Tucker epitomizes the term "life of crime" as a bank robber still honing his craft well into his 70's, always with a wink and a smile. The cast includes Danny Glover and Tom Waits as his sometime partners in crime and the equally legendary Sissy Spacek as the widower who easily falls for Tucker's gentlemanly ways. Think of it as Baby Driver for the AARP set.
2018 was a fine year for me at the movies. The real indicator is the fact that I can still think for four to five films just outside of this list (Sorry, Annihilation). And I even find myself looking forward to 2019 thanks to the enticing potential of Glass, Captain Marvel, and Us. As for my usual column known as IN CASE YOU MISSED IT, I have plenty of missed gems ahead to highlight and sell you on. Hope you have had as much fun as I have. Happy New Year!
Brisia's 5 Favorite Films of 2018
1. SORRY TO BOTHER YOU
I expected to absolutely love Sorry to Bother You, and I did. It provides profound commentary on a litany of issues including labor exploitation, corporate greed, and racial discrimination in a way that is incredibly engaging and masterfully satirical. This vibrant, scintillating film is brilliantly complimented by its politically charged soundtrack which features groovy funk-punk tunes from director Boots Riley's own band The Coup, who I'd say are now my favorite revolutionary-minded group next to Rage Against the Machine.
2. REVENGE
Every aspect of Revenge blew me away. Striking, vivid colors, fluid cinematography, stomach-churning gore, and a viciously groundbreaking performance by Matilda Lutz that tears the stereotypes of the "rape and revenge" subgenre to pieces make this extraordinary film more than deserving of a spot on this list.
3. BOHEMIAN RHAPSODY
You don't have to be a Queen super fan to find Bohemian Rhapsody awe-inspiring. It's a moving drama that, for me, made a dazzling theatre experience. Rami Malek's dedicated and thorough preparation for his monumental role as Freddie Mercury shines through spectacularly as he exudes the charm, wit, and exuberance of the music legend.
4. SUSPIRIA
I was not at all familiar with the 1977 version of Suspiria prior to watching this unique supernatural horror film, but I thoroughly enjoyed it nonetheless. It's an artsy period piece that avoids feeling pretentious and is phenomenal in its delivery of truly terrifying and inventive scenes as well as excellent choreography and acting.
5. THE DEATH OF STALIN
I can hardly think of a single moment or line from The Death of Stalin I didn't find hilarious. This film depicts the chicanery of men vying for power over the Soviet Union in a satisfying execution of black comedy that kept me entertained from beginning to end.
Matt's Top 10 Movies of 2018
1. SPIDER-MAN: INTO THE SPIDER VERSE
This should come as no surprise if you read my recent review. I'm not being hyperbolic when I say that this is probably my favorite movie of all-time, and raises the bar for what I want out of movies. It has groundbreaking animation, excellent performances across the board, and a wonderfully engaging story throughout. You couldn't design a film more up my alley if you tried.
2. YOU WERE NEVER REALLY HERE
This one, for me, was a surprise. I knew nothing about it going in other than that it starred Joaquin Phoenix, and he gives a phenomenal performance. The direction by Lynne Ramsay (who also wrote the screenplay) is excellent and the film never goes where you expect it to. Along with that, the cinematography and sound design are incredible. I saw this on a whim (RIP MoviePass) and it's stuck with me ever since.
3. BLACKKKLANSMAN
Another film I reviewed, and another one that has stuck with me throughout the year. Powerful and affecting while effortlessly shifting from darkly comedic to devastatingly sad, this is a movie that is less a straight biopic and more a brilliant use of a specific historical story to overtly comment on the ongoing problem of racism in America. Both John David Washington and Adam Driver give fantastic performances, but in many ways it's Spike Lee's assured directing that is the real star.
4. SORRY TO BOTHER YOU
The first film from writer/director Boots Riley, this movie features incredible performances from Lakeith Stanfield, Tessa Thompson, and Armie Hammer in a story unlike any you've ever seen. Like BlackKklansman, the film has a lot to say about race (and even more about class, and the degree to which those two things can't be separated), and takes some increasingly surreal turns. There's some messiness to the film (including some arguably unnecessary romantic drama) that lands it in the middle of my list, but it's an incredible debut that leaves me wanting to see what Riley does next.
5. A QUIET PLACE
This film could have been little more than its high concept – a horror film where the slightest noise or sound can get you killed. What elevates it are the family relationship at the core of the film and the theatrical experience when I saw it (which might not be an entirely fair criteria, but it's the same reason Annihilation is further down my top 10 despite thinking it might belong higher). It might be less effective viewing it at home, but as a communal viewing experience in the theater, the dead silence that everyone maintained added to the tension felt when watching the movie.
6. BLACK PANTHER
I've come down a little bit from when I first reviewed Black Panther. The cast is absolutely brilliant, the sets and costumes are incredible, and director Ryan Coogler manages to incorporate some legitimate (if, ultimately, problematic) political conflict in a superhero/popcorn film from Marvel/Disney. In a lot of ways, it's difficult to separate the importance of the film from its overall quality, and maybe it's not really necessary to try to do so.
7. ROMA
I really love Alfonso Cuarón's films, going all the way back to Great Expectations in 1998. I wasn't sure what to expect with Roma, and (having just watched it for the first time a couple of days ago) I'm still not entirely sure what to make of it from a plot perspective. Regardless, it's one of the most beautiful movies I saw this year. The cinematography is absolutely beautiful, and Cuarón uses it to contrast the claustrophobic city home and expansive villages the main character, Cleo (Yalitza Aparicio) moves between.
8. AVENGERS: INFINITY WAR
Yes, this is in many ways more a product than a film, the culmination of a decade of film series leading to this moment. But it's also a pretty amazing accomplishment in terms of scope and pacing within the film. The directors, Joel and Anthony Russo, manage to give just about every character (and there are dozens) a significant moment, while also developing the mo-cap villain into a real character, while ALSO making a movie that's just a lot of fun.
9. HOW TO TALK TO GIRLS AT PARTIES
As I said in my review, somewhere inside of me is an idealistic, romantic, sentimental person, and this movie absolutely hits that. I managed to rewatch the second half of the film last night and was reassured that it's a movie I genuinely love and will revisit regularly. Not everything entirely works for me, but it's like the movie version of my favorite comfort food.
10. ANNIHILATION
I had a truly awful experience seeing this in theaters. Seated about 5 feet from the screen and in a row next to about 4 or 5 people who only wound up in the theater because their first and second choices were sold out (they were in line in front of me) and so they decided to talk, laugh, and get up constantly during the movie. Despite that, Alex Garland's follow-up to Ex Machina (one of my favorite films) still made an impact. The cast, including Natalie Portman, Tessa Thompson, Jennifer Jason Leigh, and Oscar Isaac, is outstanding. The realization of the premise (from a novel by Jeff VanderMeer) is beautifully realized. The ending goes on for a bit too long, and the effects maybe don't quite work (but, again, five feet from the screen) but the rest of the film up to that point was truly engaging. Plus, the bear was terrifying.
Shelby's Top 8 Movies of 2018
1. SPIDER-MAN: INTO THE SPIDER-VERSE
Not only is Spider-Man: Into the Spider-Verse my favorite movie of the year, it is a contender for my favorite movie ever. It is absolutely brilliant and pushes the boundaries of what animated film (and film in general) is capable of. The movie somehow manages to balance the heavy continuity and formalist expectations of superhero comics with the affordances of motion and music allowed by film. SM: ITSV isn't a motion comic, but it isn't really an animated movie either. It is something newer and much cooler than either one, and Miles Morales is the perfect character to usher in this new era.
2. SORRY TO BOTHER YOU
Another innovative (and black AF) film from 2018, this debut feature from director Boots Riley is the 2018 film that I absolutely refuse to shut up about. The second I walked out of the theater, I felt the need to talk about what I had just watched: the most unpredictable, radical, experimental thing I've seen in a major theater in...ever? Lakeith Stanfield and Tessa Thompson are perfectly cast, the script brilliantly oscillates between satire and social realism, and Riley's deft direction holds everything in place. I can't wait to see what he does next.
3. INCREDIBLES 2
After a 14 year (!!) wait, my Disney/Pixar-loving self was more than ready to embrace Incredibles 2. The thing that surprised me, though, was how well-written and interesting the film's villain, Screenslaver, ended up being. In a superhero family comedy franchise, it would be easy enough to go with more of the same for the sequel, but I appreciate that the film A) shifted focus from Mr. Incredible to Elastigirl (I mean, it's 2018 - we really shouldn't need more messages of female empowerment, but here we are), B) developed a villain with a clear and relevant ideology and purpose (beyond "cuz they are evil, duh"), and C) revealed baby Jack Jack's powers in the best (and probably only) superhuman versus raccoon scene ever put to film.
4. ANNIHILATION
Going into Annihilation, I didn't know much beyond the fact that it was sci-fi and the follow up to Alex Garland's Ex Machina. I expected to enjoy it on that basis, but didn't know that the film would stick with me and lodge itself firmly in my brain for several months. I don't want to spoil anything, but the revelations made about the "shimmer" that a team of women scientists travel into are, as the kids say, "big if true." Imagining the philosophical and scientific ramifications of 'the shimmer' in Annihilation could easily take pages and pages, though, so I'll just say that the film is beautiful, menacing, and unforgettable.
5. YOU WERE NEVER REALLY HERE
This is the film that made me realize that you could cast Joaquin Phoenix to do literally anything on film and I'd watch it. Joaquin is going to read the newspaper for two hours? Sign me up. Joaquin is watching paint dry? Sure, I'm there. Luckily, the subject matter of this film is a bit more interesting (and waaay more dark) than that. He balances vulnerable and terrifying in perfect measure, and I'll admit that the "brutal revenge on pedophiles/sex traffickers" story line spoke to the (justifiably) angriest parts of my soul. Lynne Ramsay is definitely a director to pay attention to in upcoming years.
6. WON'T YOU BE MY NEIGHBOR?
Although a lot of my favorite films of the year were pretty dark, Won't You Be My Neighbor? was a bright spot in an otherwise grim landscape. I suppose that was unavoidable, given how wholesome the public perception of Fred Rogers has remained, even following his death in 2003. That being said, this documentary manages to effectively avoid being an overly-saccharine eulogy or, even worse, a sardonic deconstruction. Instead it presents Fred Rogers through archival footage and interviews with those closest to him - his wife, children, friends, and colleagues. Just be forewarned - if you see this, you *will* cry. Bring tissues.
7. HOW TO TALK TO GIRLS AT PARTIES
Do you ever watch one of those films that makes you say "if I had watched this as a teenager it would have absolutely changed my life"? That's how I felt about How to Talk to Girls at Parties. It is a film that 15 year old Shelby would have positively obsessed over, and 30 year old Shelby is able to appreciate it on that level. It is also the most Neil Gaiman-y of Neil Gaiman adaptations, in the best way possible.
8. A FANTASTIC WOMAN
Okay, this feels like a bit of a cheat because A Fantastic Woman technically debuted in February 2017, but we didn't get a US release until this year, so I'm counting it. The film already won Best Foreign Language Film at the 2018 Academy Awards, so there probably isn't much I can say about it that better critics than me haven't already said. I will mention, though, that even though the film focuses on a deeply tragic moment in the life of a trans woman, it doesn't feel like it is punishing the character (for being trans) or the viewer (for identifying with a trans woman). Instead, the film is a nuanced exploration of the pain of grief compounded by the pain of stigmatization and alienation.
We hope you enjoyed our top films of 2018 list and that you'll stick around for more reviews, articles, and lists in 2019! Happy New Year from all of us at Kino Club 313.